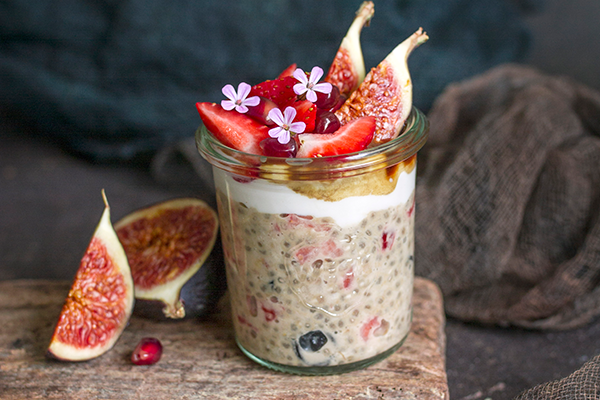 Oat and Chia Pudding with Strawberries
Ingredients (for 1 portion):
For the pudding:
10g chia seeds
15g oats
120g almond milk or other plant milk of your choice
20g yacon syrup
10g raisins
1 tsp lemon juice
40g chopped strawberries
pinch of vanilla powder
For the toppings:
2 tbsp coconut or soya yogurt
1 tsp yacon syrup
Chopped strawberries, figs and pomegranate seeds for garnish
Preparation:
To make the pudding mix chia seeds with oats and almond milk. Stir well and leave it to soak for 1 hour or longer. You can soak the chia seeds and oats the day before and leave it in the fridge overnight. When chia seeds and oats absorb all the milk add the rest of ingredients and stir well. Transfer the pudding into a glass, top with yogurt and drizzle with yacon syrup. Decorate with fresh strawberries, figs and pomegranate seeds.