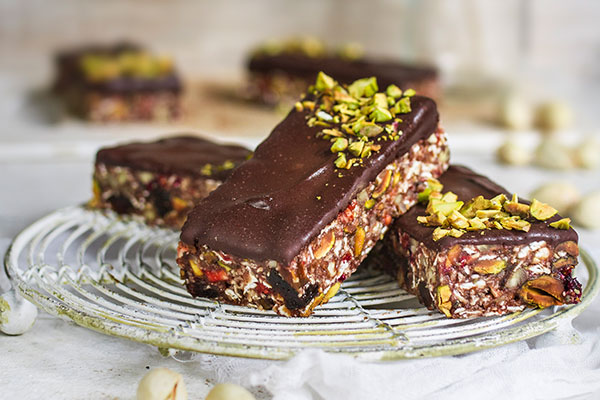 Pistachio And Raspberry Energy Bars
Ingredients (for 15cm square tray, makes 8 bars):
For the bars:
50g medjool dates
60g cashew butter or almond butter
40g yacon syrup
15g odourless coconut oil
100g oats
60g chopped toasted pecan nuts
60g chopped toasted pistachio nuts
50g fresh or frozen raspberries (defrosted)
10g dried raspberries (pieces or powder)
5g chia seeds
30g dried apricots (chopped)
pinch of salt
For the topping (optional):
40g cocoa liquor
15g yacon syrup
20g chopped pistachios
Preparation:
To make the bars start by blending dates, cashew butter, yacon syrup and fresh raspberries in a food processor until it forms thick sticky paste. Transfer the paste into a mixing bowl. Add the rest of ingredients and mix everything in a bowl using your hands. Leave the mixture to thicken for 15 minutes.Line square baking tray with a baking paper and transfer the mixture into the tray. Press well and smooth the surface with silicone spatula. Set in the freezer for a few hours.Take the frozen block out of the baking tray and cut into 8 ractangle bars. Melt cocoa liquor in a bowl over a sauce pan with hot water, add yacon syrup and stir until well combined. Dip the top of each frozen energy bar in the chocolate and sprinkle with chopped pistachios. Leave to set. Store in the fridge for up to 1 week or in the freezer for up to 2 months.