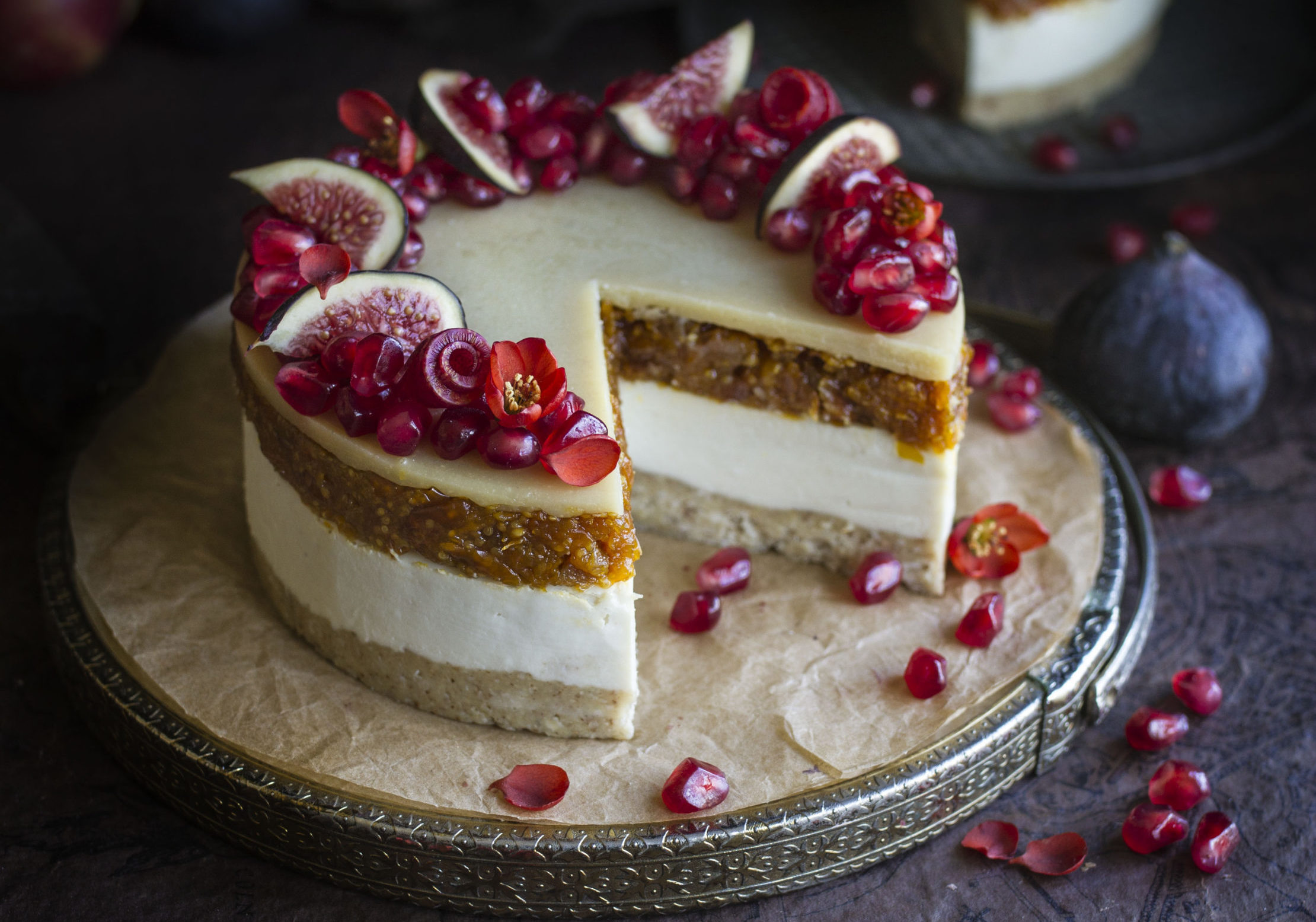 Goldenberry Jam Vanilla Cheesecake
Ingredients:
For the crust:
65g cashews
10g desiccated coconut
20g coconut oil
25g yacon syrup
25g toasted pecan nuts
5g xylitol
good pinch of cinnamon
good pinch of salt
For the vanilla cheesecake layer:
100g cashew nuts (soaked in hot water for 1 hour)
60g almond milk
50g odourless coconut oil
30g xylitol
1/4 tsp vanilla extract
1/2 tsp lemon juice
For the goldenberry jam:
120g goldenberries
120g sweet soft mango
zest of 1/2 organic orange
1/2 tsp psyllium husk powder
For the white chocolate:
15g cacao butter
20g cashew butter
15g maple syrup
pinch of vanilla powder
Preparations:
Start by making jam because it will need 24 hours to sit in the fridge. Chop the goldenberries in pieces and put them in a ceramic bowl. Using zester or fine grater zest the peel of one washed orange. Blend mango with orange zest until smooth. Add chopped goldenberries, psyllium husk and blend until it forms a jam. Leave in the fridge for 24 hours to thicken.
When the jam is ready start making the cake. In a food processor blend all the crust ingredients until well combined into dough. Line the bottom of a loose-bottomed round cake tin with a cling film or reusable liner. Transfer the crust mixture into the tin and press well into the bottom. Smooth the surface and set in the freezer for half an hour.
To make the cheesecake layer blend all the ingredients in a high-speed blender until smooth. Pour the mixture onto the ready cake bottom and set in the freezer for a few hours.
When the cheesecake layer is set put the jam on the top and spread evenly using palette knife or spatula (make sure the cheesecake is fully set before you start spreading the jam).
To make the white chocolate melt cacao butter in a bowl over the saucepan with hot water. Add the rest of ingredients and whisk well until smooth. Pour the chocolate on the jam layer and place the cake in the fridge. Before cutting the cake put the knife in boiling water for a few seconds. Repeat before cutting each slice.
Recipe Type: C

heesecake

Tags: Goldenberry