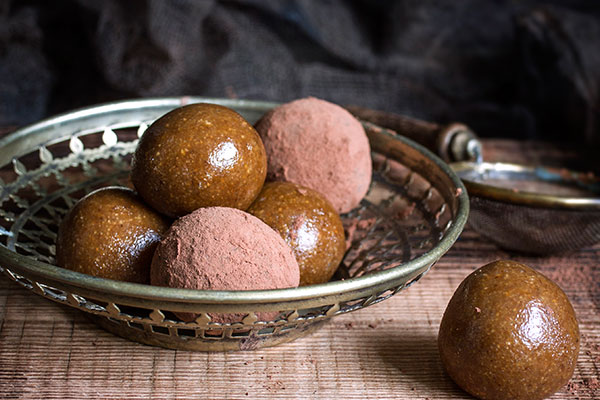 Ingredients:
For the energy balls (makes 10 truffles):
80g toasted cashew nuts
40g yacon syrup
40g medjool dates
40g ground almonds
1 tsp water
1/2 tsp maca powder
1/2 tsp cinnamon
pinch of freshly grated nutmeg
pinch of allspice powder
1/2 tsp ginger powder
For the coating (optional):
10g cacao powder
Preparation:
Start by blending the cashew nuts with water, yacon syrup and dates in a food processor until thick smooth paste is formed. Transfer the paste into a mixing bowl, add the rest of ingredients and mix well using your hands until smooth dough is formed. Divide the mixture into 10 even parts (you can use the scales and weight up 10 balls 21g each). Roll the balls using your hands and put them in the freezer for 1 hour. Serve plain or coated in coco powder.They will last for 2 weeks in the fridge and up to 2 months in the freezer.