Gourmet Salts Canada/U.S.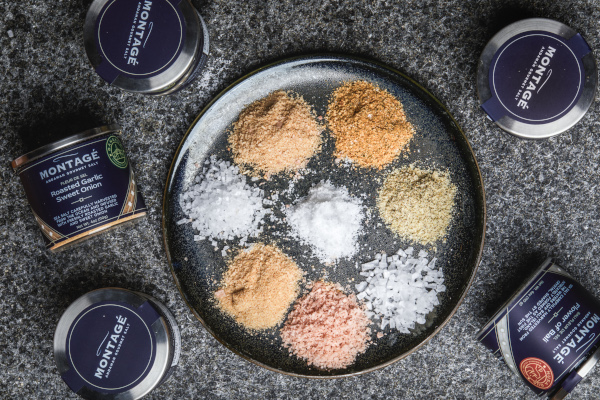 If you're looking for Gourmet Salts in Canada or the United States, Linkus offers the artisanal Montagé brand. Montagé creates the world's finest Gourmet Salts and Complete Seasoning Mixes in retail, food-service, and custom bulk sizes.
Montagé's Gourmet Salts and Seasoning Mixes come from the experiences and experience of the award-winning Bocuse d'Or Thailand chef team. Led by renowned gourmet chef Olivier Castella, this group of top-flight working chefs painstakingly select each pure salt and carefully craft the mouth-watering taste of every seasoning mix.
The result is a line of incredible flavours that suit everyone: from home cooks to Michelin Star gourmet chefs. Adding Montagé Gourmet Salts and Seasoning Mixes to every meal will unlock the hidden layers of taste in your food and transport you to a unique world of flavour.
Gourmet Salts Canada/U.S. – Products & Uses
Montagé's Gourmet Salts and Seasoning Mixes are available in Canada through Linkus. For our consumer, retail, wholesale, food-service, and manufacturing clients in the United States, Montagé is available through our sister company, EAP Trading.
Our current line of dipping salts, finishing salts, topical salts, and seasoning mixes includes the finest sea salt, flaky salt, smoked sea salt, truffle salt, flavoured salt, and Himalayan pink salt.
Our Product line Comprises Two distinct Categories.
The first is our Chef-Selected Gourmet Salts:
1. Small Pyramid Crystal (Kusamba) – Bali Pyramid Sea Salt
These hollow, crunchy, small sea salt pyramids are a great finishing salt. Use them to top steaks, pork chops, salads, chewy or crispy snacks, or roasted/baked potatoes.
2. Hollow Pyramid Crystal (Tejakula) – Bali Pyramid Sea Salt
These hollow, crunchy, large sea salt pyramids provide a unique flavour and sensory experience as a dipping salt. Or, crumble the pyramids over desserts or a variety of meats.
3. Flower of Bali (Nusa Dua) – Bali Fleur de Sel
The elegant flavour and texture of this finest of sea salts is great for all foods and everyday use: cooking, dipping, topical, or finishing.
4. Pink Himalayan Flakes (Himalayas) – Flaked Pink Salt
This unique flaked salt provides the flavour of Himalayan rock salt, but with a melt-in-your-mouth texture.
5. Tamarind Smoked (Mandalay) – Smoked Fleur de Sel
The mild smoky flavour of this premium smoked salt is reminiscent of walnuts. It is ideal for game meats and turning fresh salmon into gravlax.
6. Longan Smoked (Chiang Rai) – Smoked Bali Pyramid Sea Salt
Savoury and smoky with a subtly sweet, delicately fruity profile. This unique smoked sea salt adds zip to several foods — including chocolates and desserts — and can create a vegan bacon flavour.
Our Second Category is Chef-Created Complete Seasoning Mixes:
7. Roasted Garlic and Sweet Onion (Bangkok) – Fleur de Sel, Onion, Garlic, Coconut
This versatile Fleur de Sel seasoning mix suits pasta sauces, rice, sweet potatoes, roasted vegetables, tofu, beef, chicken, or pork.
8. Sun-Dried Tomato and Thai Basil (Samui) – Fleur de Sel, Tomato, Basil, Red Bell Pepper, Garlic, Coconut
A sweet-and-savoury blend that tops off salads or omelettes. Or, use it as a seasoning salt when frying fish, meat, or vegetables.
9. Galangal Lemongrass w/Roasted Coconut (Sukhothai) – Fleur de Sel, Coconut, Galangal, Ginger, Lemongrass
This slightly sweet, earthy, citrusy mix is a lovely seasoning salt for chicken, pork, white fish, rice dishes, or stir-fried vegetables.
10. Roasted Espresso Cacao (Mumbai) – Fleur de Sel, Coffee, Cacao, Chili, Coconut
The bold flavour of this seasoning has roasted espresso overtones. This Fleur de Sel mix is perfect for beef, tuna steaks, and hearty vegetables.
11. Yuzu Citrus (Miyazaki) – Fleur de Sel, Yuzu, Yuzu Zest, Green Peppercorn, Coconut
This tangy citrus, spicy delight has a lovely floral aroma and a slightly addictive taste that's better than any lemon sea salt. It's a great topical salt that finishes green vegetables, fish, squid/octopus, or foie gras.
12. Thai Tropical Truffle (Suthep) – Fleur de Sel, Dried Black Truffle, Shiitake, Natural Truffle Flavor, Coconut
A fragrant, musky gem that turns any dish into a gourmet experience. It's perfect for risottos, as a dry rub for steaks, or a natural taste enhancer for snacks.
Contact Linkus Today to Buy Gourmet Salts in Canada.